This week saw action from the world's best Brazilian Jiu Jitsu athletes in Long Beach California for the annual IBJJF Brazilian Jiu Jitsu world championships. This year the tournament took place over 5 days in its biggest ever installment and it did not fail to disappoint.
Brits Bring Home Gold
This year's tournament saw the UK get its first ever world champions at brown belt including RGA Buck's own Yasmine Wilson who dominated her Female Brown Belt Featherweight division by winning all 3 of her fights by quick submission. Luke Costello also took a gold medal in the Male Adult Brown Belt Super Heavyweight category along with fellow Brit Vanessa English who also brought home a gold medal in the Female Purple Belt Light Featherweight category.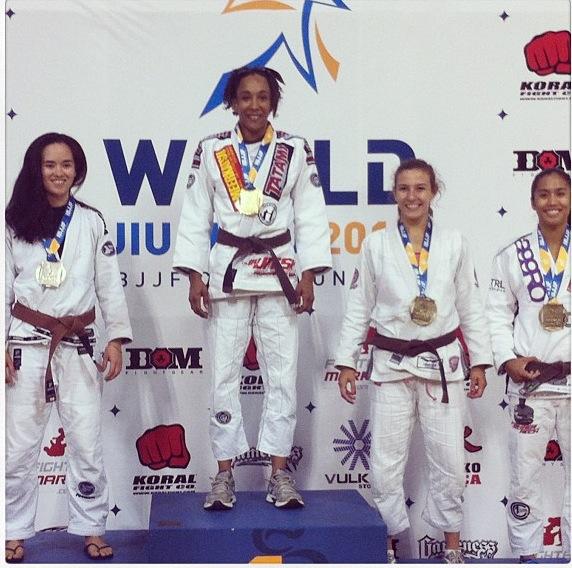 The Black Belt Finals
The black belt divisions this year were full of excitement this year with new champions being crowned, previous long time champions being dethroned, outstanding submissions and last but not least a little controversy.
In the roosterweight division, Caio Terra managed to overcome his somewhat hoodoo over division rival Bruno Malfacine to win gold for the first time since 2008 after 4 consecutive silver medals. Featherweight kingpin Rafael Mendes was finally dethroned by Augusto "Tanquinho" Mendes after winning gold for the last 3 years. The light featherweight division saw controversy when the match winner Ary Farias was given a disadvantage after the match finished for celebrating outside of the match area which resulted in his opponent, Gabriel Moraes being up on points and taking gold.
The Heavyweight and Ultra Heavyweight divisons were dominated by Rodolfo Vieira and Marcus "Buchecha" Almeida respectively who have both proven themselves to be the top 2 BJJ practitioners in the world in their respective divisions over the last 18 months by winning everything they've entered in that time. These two also met in the final of the absolute divison with the crown eventually being taken by Buchecha.
This year also marked the return of UK based BJJ instructor Braulio Estima who returned to the world championships for the first time since 2009 and took home silver in the medium heavyweight division beating the ever impressive Andre Galvao on the way. Braulio lost the final match by forfeit to friend and fellow Gracie Barra team mate Romulo Barral. Braulio also wowed the crowd with the most impressive submission of the tournament by pulling off a spinning kneebar from the De La Riva guard which can be seen below.
Full results for the 2013 IBJJF Brazilian Jiu Jitsu World Championships can be found Here
---
---